BevEx Limited
Cooling two polmer extruder lines
No need for costly extras or modifications! The standard HLB 50 packaged water chiller is designed to be plumbed directly from the open water tank straight into the chiller suction inlet – and you're ready to go!
Bevex LImited, Coalville, Leicester.
They are manufacturers of beverage pythons and tubing products including tap and trace cooling assemblies and a range of ancillary products for the beverage industry worldwide.
Customer Requirements:
Replace the inefficient cooling system with a packaged water chiller.
"I approached Nexus Cooling because they offered a simple solution with competitive pricing and a fast turnaround. Nexus helped me by offering the correct product that suited our unique application. After discussing our requirements Nexus carried out a full site survey and provided accurate data to show that their specification would work. The result was a trouble free installation that was completed within 2 days. One thing I liked was their attention to detail in every aspect from specification to delivery and commissioning, they even visited a week after the installation to check that everything was running correctly. I found the experience to be very satisfactory and I would recommend Nexus Cooling to people who need a professional company that cares about the services they offer and their customer's satisfaction."
STEVE YARSLEY
Production Manager, Bevex Limited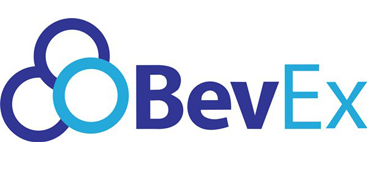 Dramatic improvements in temperature stability once the previous supplier's system was replaced with a Nexus HLB 50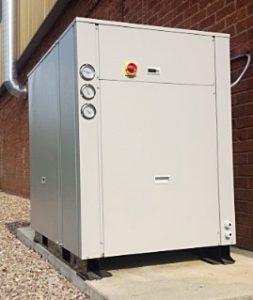 ---
Description of chiller package supplied by Nexus
Nexus delivered a 50Kw HL-B 50 packaged water chiller to cool the existing tank that supplies chilled water to the extruders.
Description of works carried out
Nexus supplied one off HL-B 50 Packaged water chiller (50Kw Chiller) to cool the existing tank. Chilled water is supplied by the customers pump to the Polymer extruder lines with vacuum sizing tanks, which produce polyethylene beverage tubing. The HL-B 50 packaged water chiller is piped directly from the open tank to the suction of the chiller inlet without the need for additional pumps or any modifications to the standard chiller.
Outcome
The temperature stability improvement is dramatic compared to the previous system. The installation of the pipework is simple and efficient, with minimal modification to the original system required. The tank was drained down and a simple tank connector fitted to the existing tank and pipework, which is installed directly to the chiller suction with the return going straight back to the tank.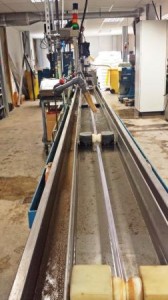 Back to case studies